Posted August 11, 2017
Cycling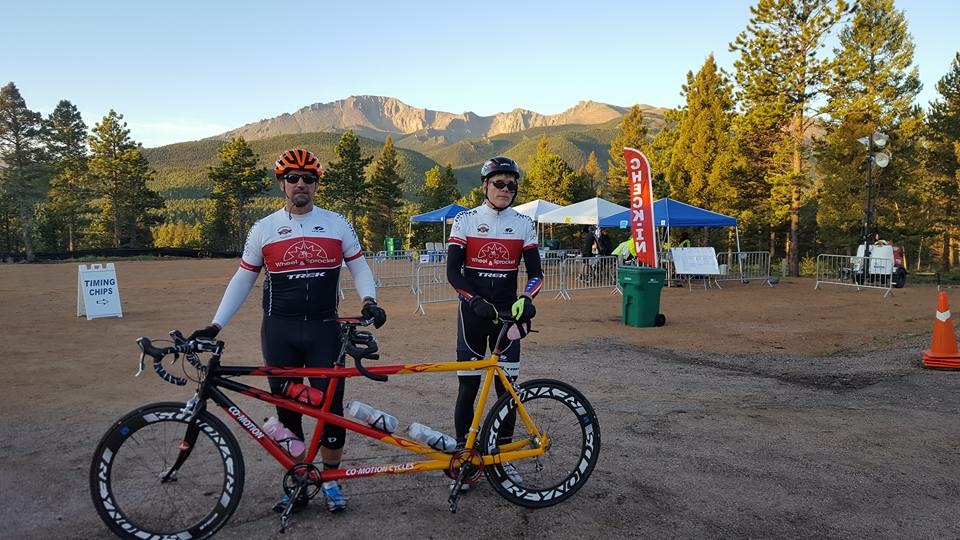 Kevin Meyers and his pilot, Greg Miller, will pedal their tandem to the top of Pikes Peak, America's Mountain, this weekend in Colorado Springs as part of the 2nd annual USA Cycling Hill Climb National Championship.
The tandem team met in 2008 at a Learn to Race Cycling Camp hosted by U.S. Association of Blind Athletes. Meyers and Miller raced together and were even part of the National Team talent pool until 2010. Due to personal obligations, Miller was unable to devote the time needed for training and racing with Meyers. Meyers found other pilots but the two have stayed in touch ever since.
"This will be our first national championship event since 2010," Miller told USABA. "We're excited!"
Meyers and Miller will mount their tandem at 9,390 feet and ride 12.42 miles at an average grade of 7% gaining 4,725 feet to cross the finish line. Last year, Miller piloted the first tandem to the top of Pikes Peak with Paralympian Clark Rachfal.
"I had a great time racing Pikes Peak with Clark, and love riding in CO," said Miller. "So it was an easy answer when Kevin brought up the subject while he was staying with us in Knoxville, racing in the Tennessee Paracycling Open in May."
The two have been training separately, Miller in Tennessee and Meyers in Wisconsin, but Miller has been able to help Meyers prepare by sharing insight from his experience with Rachfal last year.
"I learned to take it easy in the first half of the race," said Miller. "Because the road gets steadily steeper and of course, the air is thinner. The main lesson was that I learned I could drive a tandem at 14,000 feet, which was not anywhere near a given, since I live at 990 feet above sea level."
Miller trained on gravel climbs in Tennessee with his wife on their mountain bike tandem.
"We have a two-hour ascent on rough abandoned jeep track which is very similar, effort-wise, to the ascent of Pikes."
Though Miller is now familiar with what to expect, weather is an unknown – as is Meyers' adjustment to high altitude. Overall though, the team is looking forward to the challenge.
"This is truly an adventure, with the outcome unknown," said Miller. "I'm excited to ride with my old friend again, and take on a new challenge with him!"